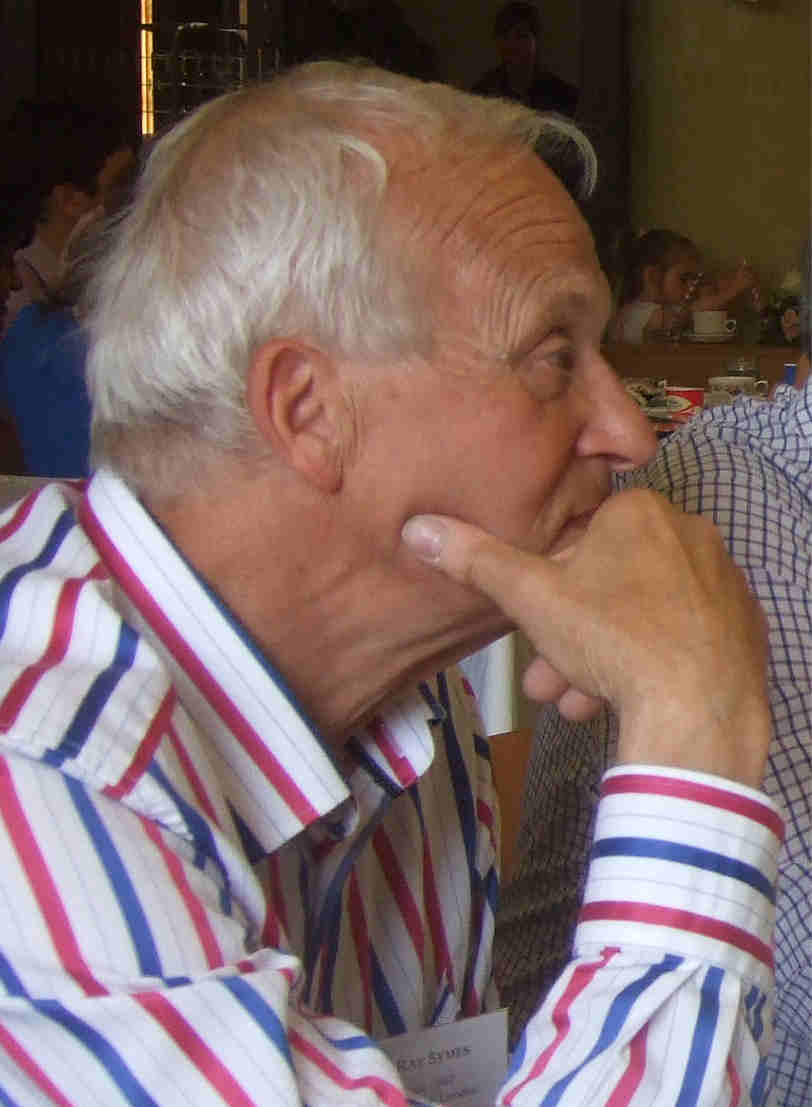 A recent pictures of Ray taken at the MH Tea Party.
Ray Symes
Attended the Mad Hatter Tea Party in 2014 - See the event pictures
Now living in Cheshire with his wife Helen. Awaiting his own, much fuller, write-up.
Ray Symes - Since Leaving Kings
1964 - 1967
BSC Special Physics , Kings College London, paid for by UKAEA Scholarship. In 1967 they offered me a job at Windscale but I declined and did a PhD instead
1967 - 1970
PhD Nuclear Physics Liverpool University. Thesis-the Nuclear Structure of Si 30 plus several papers. A fascinating read for anyone who has sleepless nights and copies are available. Liverpool wanted me to continue research at Daresbury but I badly needed money. The UKAEA offered me a second job at Aldermaston but again I declined.
March 1970
Married Helen who lived in Seascale at the time and 3 children (all girls) came along over the next 14 years, Rachel in August 1974, Emma in May 1977 and Elizabeth in Jan 1984. Clearly I'm not good at making boys. Miraculously still married to Helen 44 years on.
Sept 1970
Joined ICI's Mathematics Dept in Runcorn to do Operational Research - essentially building mathematical models to optimize business situations e.g. LP's and Simulations. ICI struggled to know what to do with someone who understood the nuclear structure of Si30 so wanted to keep me locked up with their other boffins.
1970 - 1998
Did many commercial jobs in ICI at different locations covering Product Management, Distribution, Marketing, Purchasing, Business Management, all with global responsibilities involving international travel and personnel management. Saw some magnificent places at ICIs expense. Never needed all that nuclear structure stuff.
1998
Voluntarily retired from ICI with a golden handshake to set up my own Management Consultancy. Should really have left earlier but I was locked into the regular paycheck addiction, big mortgage, expensive kids etc. My first contract was to assist the ICI Divestment team to divest many of the ICI businesses I had worked in in previous years. I joined at the peak of ICI's business and got out as they were sold off.
2000
Set up a Property Company with 2 other Directors to manage both new build and refurbished properties for either sale or rent. One of the new properties I built is where we have lived since 2003 and I still have student properties in Chester. I'm still involved on a day to day basis with property
Family.
The 3 girls are married, two have children and the younger is expecting. All live away from Cheshire now so we rattle around a 4 bed house.
Rachel & Rak now live in Solihull but will move to Tanworth in Arden when their house purchase completes in a few weeks. Rak works for Cadbury/Kraft as a Patent Attorney and Rachel is in HR at National Grid.
Elizabeth and Shaun live in Balham. Elizabeth is a lawyer at McFarlane's in the City and is currently pregnant and Shaun (an Aussie who decided London was more exciting than Perth) is an accountant in a London property company owned by a Sheik in Qatar.
Emma and Michael live in Bath, my favourite spot. Emma is a teacher and Michael has just started up his own graphic design business after working for a couple of local companies.
Today
- I'm now trying to find away of extricating myself from the property business. This is hard because I like building projects. It's time to move on and liquidate some assets to give the proceeds to the children to put deposits on houses. Poor souls. We enjoyed free education and massive property booms.
In my spare time I have been active in the stock market including contracts for difference. I also chair an investment club locally. We make some money but it's mainly a bit of fun.
I am also the Home Watch guru in our village. This involves lots of communication with the police and other coordinators across the patch. I tried to put together a County Wide organization a couple of years ago but this was not successful.
Finally Helen & I are trying to allocate more time to travelling to see some of the places I saw for free during my business career. The aim is to have at least one weekend away every month. Sometimes this turns out to be one week per month and can be in the UK. This gets the children annoyed when we can't babysit or even see them on a regular basis. To keep fit, our walking group does quite a bit of walking so over the last couple of years we have walked the Monsal Trail, Sandstone Trail, Mortimer Trail, Norfolk Coastal path and the Dales Way. We still have a lot of Offa's Dyke to do and all of Hadrian's Wall
Life just seems to get busier which is not what I thought it would be like 50 years ago when I got on a train at Liverpool Lime St with all my worldly possessions to embark on a degree at Kings College.
Ray Symes
June 2014